The Best Data Providers for Lending & Underwriting Decisions

Automated lending decisions require clean, high-quality data that can be instantly analyzed to make lending decisions. The lending ecosystem offers a wide array of amazing data providers and we've grouped the leading providers into five categories:
Traditional Credit Bureaus
Alternative Credit Bureaus
Verification & Fraud Prevention
Collateral Valuation
Non-Traditional Data
Many of the companies list below have products that span multiple groups listed above. In those cases, we attempted to categorize them where they fit best.
Please note that this article is U.S. focused, however DigiFi's platform is available globally. Please contact us if you'd like to discuss the top data providers in your region!
Traditional Credit Bureaus
The traditional credit bureaus strive to be "one stop shops" for the data that lenders require. They have vast amounts of proprietary data and, through a combination of product development and acquisitions, they're constantly adding additional tools and predictive models to their product catalogs.
Their most popular product is a consumer credit report, which includes information regarding a customer's tradelines (credit accounts), collections, bankruptcies, inquiries and more. In addition, they provide off-the-shelf summary credit data (e.g. number of accounts, total balance), risk scores (e.g. FICO Score and Vantage Score), identity verification information, income predictions and other products.
The standard data and consumer coverage provided by each bureau is similar. However, each bureau maintains their own proprietary data which grows as lenders report information to them; since not every credit issuer reports to every bureau, they can often contain slightly different information about the same consumer. Therefore, while most lenders only work with one bureau, some choose to work with all three to get the broadest information (sometimes provided as a "tri-merge credit report").
Traditional Credit Bureaus in the U.S.:
TransUnion (www.transunion.com)
Equifax (www.equifax.com)
Experian (www.experian.com)
Alternative Credit Bureaus
The alternative credit bureaus are similar to the traditional credit bureaus, however they've carved out a niche providing best-in-class data regarding higher-risk borrowers. Lenders issuing riskier loans (for instance, those to subprime borrowers) may have more success with the alternative bureaus than the traditional bureaus, because they've done a great job collecting all relevant information about customers with challenged or limited credit histories.
In addition to collecting credit data, the alternative bureaus have capitalized on the opportunity to use other data when making lending decisions. They often offer data such as rent and utilities payment history, public records information, employment history and banking information, which is particularly helpful when lenders are looking to issue loans to customers with "thin" traditional credit files.
Alternative Credit Bureaus:
FactorTrust (ws.factortrust.com)
Clarity Services (www.clarityservices.com)
Data X (dataxltd.com)
Verification & Fraud Prevention
A wide range of data can be used to verify application information and prevent fraud, and many terrific data providers serve this market. These companies typically fall into one of three groups:
Identity Verification — Data sources that provide information to verify a customer's identity, such as public record information, fraud risk scores and verification tools (e.g. knowledge-based assessment)
Income Verification — Data sources that provide information to verify a customer's income, such as proprietary access to company-reported income details, Form 4506-T data and income prediction models
Bank Account Verification — Data sources that provide information to verify a customer's bank account, such as account or routing number verification, automated check review, bank risk scores and direct access to the customer's historical transaction data
Verification data providers:
Please note that the credit bureaus also offer fraud products - many of which are quite good. It's a good idea to consider your chosen credit bureau's fraud products as part of your overall strategy.
Collateral Valuation
Collateral valuation providers estimate the value of common lending collateral, such as real estate or automobiles. Each provider typically has a specific niche and this market is dominated by a few big players.
Automotive Valuation:
Real Estate Valuation: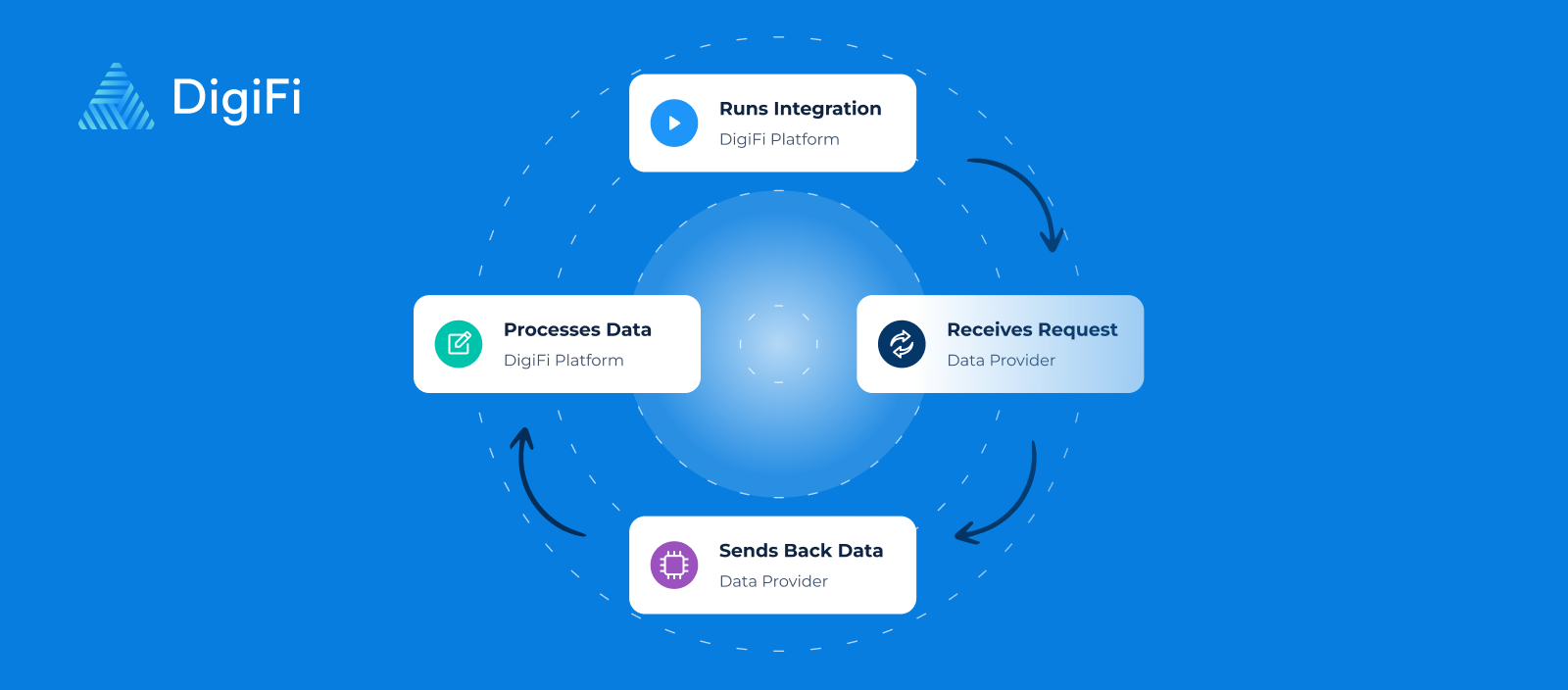 Data Integrations
Connect DigiFi to data sources and internal company systems with our flexible integration builder, which makes it easy to set up integrations, configure authentication, extract response fields and add custom calculations.
Explore DigiFi Platform
Non-Traditional Data
In addition to the data sources outlined above, lenders are often looking for other interesting ways to underwrite and reduce fraud risks. Here are a few of our favorite non-traditional data sources:
Final Thoughts
We'll keep updating this list as we work with new data providers that empower our lending clients to make better decisions. If you have any suggestions or believe we missed a great data source, please reach out to support@digifi.io.